STEM Toys by Matatalab That Make Kids Smarter
Burdening children with studies right in their early childhood years is unfair and unnecessary. How would you then introduce a 4-year-old to basic concepts of math, computers, and science? Textbooks are an unheard-of phenomenon in pre-school years and educators heavily rely on hands-on techniques to prepare students for elementary school and beyond.
What is STEM Based Learning?
STEM is a cohesive learning approach that involves the real-world application of concepts taught in school. In this complex world that we live in, it is a necessity for our youth to learn skills such as problem-solving, making correct decisions, and assimilating information that is readily available to them via digital mediums. Therefore, the STEM system rests upon 4 important pillars; Science, Technology, Engineering, and Mathematics; as the emerging job market is gravitating towards work opportunities in the following fields. Essentially, STEM education gives a good start and direction to students who would later go on to make a successful career for themselves, in any of these upcoming fields
What are STEM Toys?
STEM toys are excellent tools for learning, aside from being fun. They are engaging and exciting, such that students don't get bored, on the contrary, they find reasons to engage with these tools. 'Learn while you play' is essentially the motto!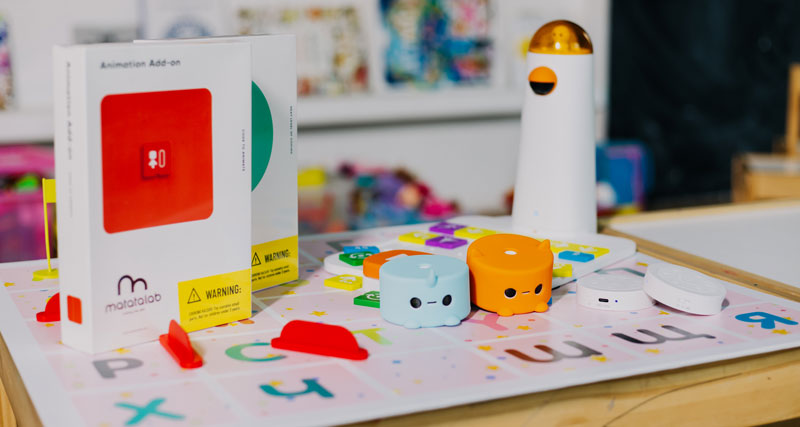 About Matatalab
With a mission to become the world's leading education company based on innovative STEM solutions, Matatalab is transforming the way children learn….one child at a time! Their innovative learning solutions are powered by technology and aim to instill confidence amongst children to face the challenges of the changing world around them. Combining the benefits of technology and innovation, their range of coding products is impressive. Matatalab has already created an impressive impact across pre-kindergarten and primary schools in different parts of the world, including Dubai in the Middle East. Here's what educator's who implemented Matatalab lessons, have to say about this platform;
Kindergarten
"Matatalab is suitable for use by preschoolers. Matatalab is a learning tool that makes the learning process exciting; Matatalab can be linked to all subject areas of pre – primary education (me and the environment, language and speech, mathematics, art, music) The tool does not require much space to move around so it can be used freely for desktop activities." — kindergarten teacher
Primary School
"During the pilot I as a teacher experienced cooperation with peers, happy faces, joy of learning new things and happiness when they figured out the solution. It was nice that we were able to boost creativity skills for my students. Robots were easy to use. There were tasks for all kinds of students, for them who just started coding and also for them who were at a more advanced level." — Grade 1 teacher.
Tale-Bot Pro (Recommended for PreK-K)
Tale-Bot Pro is a simple and easy-to-use robot set for kids between ages 3-5 years. Children learn to code and manipulate the robot to make smart moves. Kids can curate their own storyline where the robot is made to perform different tasks like drawing and dancing. Through play-way children develop their speaking skills by interacting with the teacher and other students in class. One also develops socio-emotional skills, such as empathy and tolerance, by sharing their robot buddy with others in school and playing together in a group.
Matatalab Lite (Recommended for PreK-K)
Kids learn concepts such as sequencing, conditionals, and debugging, by using the Matatalab Lite module. The best part about this is that there is absolutely no screen time involved and hence it's safe for children to play & code the robot for as long as they wish to. The kit comes with a step-by-step challenge booklet, which offers different gamified tasks, allowing preschoolers to use their imagination and complete the levels until proficiency is achieved.
Pro Set (Recommended for K-Grade 4)
Students can flaunt their Pro level skills with the Matatalab Pro Set. At a young age, children learn to use coding blocks and algorithms to control a robot car, thereby improving their cognitive abilities. Even one's creative expressions come to the fore, as users can curate beautiful art scenes and play different musical tunes by coding the Pro Set robot. We are sure your little munchkins will fall in love with Matatalab kits and develop a fondness for coding at a young age. It's time to start your kid's 'coding journey' with Matatalab! To enquire about its availability in UAE and other GCC countries across the Middle East, visit our website