Mobile Device Management Simplifying Device Lifecycle Management
Secure, Monitor, and Manage company or employee-owned devices.
Avoid security risks and solve maintenance challenges during all phases
of device lifecycle using cutting-edge mobile device management software.
What is Mobile Device Management (MDM)?
Mobile Device Management (MDM) is a system that enables IT administrators to securely manage both company-owned and employee-owned mobile devices used within their organization. By employing an MDM system, administrators can exercise control over the software, hardware, security, and other aspects of mobile devices, ensuring enhanced security, compliance, and productivity.
SureMDM by 42Gears is an intuitive and powerful MDM solution and app available for Android, iOS/iPadOS, Windows, Linux, macOS, Wear OS, VR, and IoT platforms. With SureMDM, IT teams can secure, monitor, and manage company-owned devices for dedicated use, as well as employee-owned devices used to access company data (BYOD). SureMDM encompasses all aspects of enterprise mobility through unified endpoint management, including Mobile Application Management, Mobile Device Management, and Mobile Content Management. All SureMDM plans include SureLock (industry-leading kiosk solution), SureFox (secure lockdown browser), and SureVideo (secure digital signage solution).
Why is Mobile Device Management important?
In the modern business world, mobile devices have almost replaced conventional desktops. Companies are also increasingly shifting their infrastructure to the cloud, allowing employees to access applications, corporate data, and other resources from anywhere and on any device. This has provided businesses with greater mobility and flexibility.
However, this new wave of mobility has brought along greater cybersecurity risks and made device management even more difficult. These challenges make it imperative for businesses to adopt device management solutions.
Mobile Device Management Solution for Device Lifecycle Management
Even for businesses asking "what is MDM?," it's never too early or late to start using a mobile device management solution. Enterprise devices have different needs at different points in their life cycles. Using an MDM solution will help with every one of those points, helping businesses get the best return on investment.
Enrollment
SureMDM provides a comprehensive hub for enrolling any kind of device into your network. Where applicable, the MDM software works with Android Zero-Touch Enrollment (ZTE), Apple Business Manager, and Windows Autopilot to rapidly build your device network. You can also manually enroll devices by installing an on-device MDM app and easily connecting the app to the central MDM console. Plus, you can enroll employee-owned (BYOD) devices through Android Work Profiles and Apple User Enrollment and generate a secure virtual container to store sensitive data.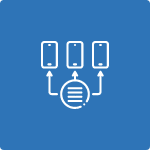 Provisioning
MDM software makes it simple to provision devices with the apps and content they need. Use Apple Business Manager or Managed Google Play to push apps, or allow employees to access a secure, exclusive Enterprise App Store. For secure files, offer employees an exclusive File Store. You can also lock devices down to several apps, or a single app, to ensure employees use devices as intended once you deploy them. SureMDM's kiosk lockdown component allows you to easily limit device functionality so devices can serve a dedicated purpose. Plus, mobile device management software also lets you lock down Internet browsing to pre-approved websites for safe browsing.
Deployment
Deploying devices to employees can be challenging if security certificates and other important credentials don't reach every device properly. SureMDM gives you a straightforward way to push and check security certificates at any time, making sure that devices work well once deployed. Another potential problem is that devices may not properly sync to Wi-Fi, but if they are locked down, users can't reconfigure Wi-Fi. SureMDM's lockdown solution automatically opens network settings when necessary, even when device settings are normally blocked, making sure everyone can access the Internet at any time after deployment.
Management
Managing active devices requires admins to keep track of many things at once, and 42Gears' device management solution makes that possible. With an MDM solution, you can automatically restrict device activity based on time of day and location, for example, and monitor data consumption to warn or block data-hungry devices. Plus, you can coordinate remote app updates across every device from the central console, even when devices are in the field. This keeps device software consistent between users without demanding excessive time from those users. Perhaps most importantly, remote troubleshooting allows admins to get devices working from anywhere, eliminating most travel costs and minimizing device downtime.
Retirement
When it comes time to phase out devices, you can use a mobile device management solution to keep track of devices and ensure they are all factory-reset. You can remotely wipe lost devices as well, to guarantee the data on those devices doesn't fall into the wrong hands. With employee-owned devices, SureMDM makes it easy to remove the secure enterprise container from the device.
Benefits of Using a Mobile Device Management Solution
Even once you can answer the question "what is mobile device management?," it's important to see why it matters so much. Choosing to implement a mobile device management solution with SureMDM provides businesses with a wide range of benefits:
Save time by setting up apps and content on many devices at once from a central console, and push updates.
Lower maintenance costs by replacing many in-person repairs with remote troubleshooting via a device management solution.
Improve stakeholder confidence by bolstering your network's security and ease of management.
Establish clear boundaries for worker-owned devices to manage sensitive data without overstepping personal boundaries.
Prevent device loss with constant inventory tracking, and use location-tracking to find and secure misplaced devices.
Boost productivity by blocking access to games and entertainment via the on-device MDM app.
SureMDM
SureMDM by 42Gears is an intuitive and powerful Unified Endpoint Management (UEM) solution for Android, iOS/iPadOS, Windows, Linux, macOS, Chrome OS, Apple TV, Wear OS, VR, and loT platforms. Deploy, manage, and secure mobile devices and he con en hey hold, keep corpora e da a safe, and remotely monitor and repair any device from an easy-to-use central console.
Enroll, Deploy, and Provision All of Your Devices with Ease
Enroll and setup devices in SureMDM quickly and easily. Use a wide range of possible enrollment me hods, including Android Enterprise Enrollment, Zero–Touch Enrollment, Apple Business Manager, Windows Autopilot, Zebra StageNow, Samsung KME, QR codes, and more.
Manage All Devices from an Intuitive Central Web Console
Experience superior performance with the new version of SureMDM Console (v3.0), a single, intuitive interface to manage all your devices and get the device–related information you need to make informed decisions. 42Gears Partners with Intel for Intel vPro and AMT integration Use Out-of-Band management to control devices independent of heir Operating Syst em. Remotely urn devices on or off, maintain a remote session even as a device reboots, and more. Android Enterprise and Apple Business Manager Support Se up, configure, and deploy corporate-owned Android and Apple devices right out-of-the-box.
42Gears Partners with Intel for Intel vPro and AMT integration
Use Out-of-Band management o control devices independent of their Operating System. Remotely turn devices on or off, maintain a remote session even as a device reboots, and more.
Android Enterprise and Apple Business Manager Support
Se up, configure, and deploy corporate-owned Android and Apple devices right out-of-the box.
Why choose SureMDM?
A strong partner ecosystem with more than 130 partners across the globe.
Industry Accolade: lDC Marke Scape 2022 recognized SureMDM as a leader in Ruggedized/ln erne of Things device deployments.
Technical Superiority: With over 13 years in the UEM industry, we have seamlessly supported more than 5 million device deployments across 115+ count ries.
Agility and Scalability: SureMDM ensures unlimited scalability and business agility. We offer a common agent for SaaS and on–premise.
Customer Satisfaction: 90% of users recommended SureMDM on Gar ner Peer insights.
Real-time Support: You ge real– ime 24/7 echnical suppor via call/cha /email/ icke .
Product Customization: Quick turnaround on fea ture and customization requests.
Value for Money: Realize a 25X re urn on inves men and 60% less ime managing your device ecosys em wi h SureMDM.