What is AutoAuto?
Self-driving cars for teaching Computer Science and Artificial Intelligence
3rd Grade – College Levels
180+ hours of ready-made curriculum tied to
physical and virtual cars for learning CS and AI.
Project-based Learning
Using the hands-on AutoAuto cars or their
simulated version, students master Python and AI.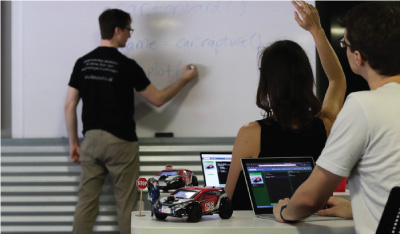 Learning Platform
Students complete projects and auto-graded challenges.
Teachers track progress along the way.
Certifications
Support, professional development, and
certifications are available throughout the year.
A complete solution for your classroom!
Browser based! No installations needed!
Video-based content and auto-grading exercises!
Real-world projects keep students engaged!
Students learn high-demand skills for their future jobs!​​​​​​​
Fully virtual Courses
Lowest cost
Students do all lessons, assessments, and projects in our virtual worlds!
Optional Physical Upgrade
Larger budget
Bring concepts to life with physical AutoAuto cars!
Students use both the virtual and physical AutoAuto cars to learn.