Using virtual robots to make coding accessible for all.
Enable Students to Learn Vital Life Skills
Master math, critical thinking, and coding skills! Robotify guides students to produce original ideas, with the tools, resources, & freedom to grow their capacity for creativity, critical thinking, problem-solving, and collaboration skills.
Why Robotify? Enjoy The Thrill of Robots without The Hassle of Hardware
Get 24/7 access to your personal fleet of virtual robots, with access to over 900 gamified coding challenges. Going virtual removes the hassle and expense of hardware making coding and robotics more affordable and accessible to all.
Features
Block based coding.
Comprehensive guided programming curriculum (100+ hours)
900 coding challenges to complete
Real life challenges in incredible 3D virtual environments
Master math, critical thinking, and coding skills
Problem and game based learning
Compete in global virtual robotics competitions – Roboduel
Full competition management backend software
Projects platform – Share & collaborate your own coding projects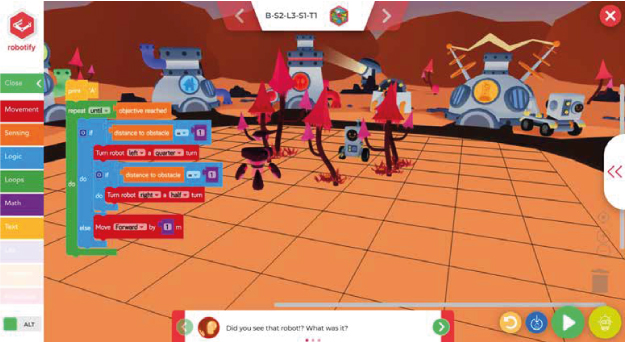 Advantages
Easiest Way to Get Your Kids Learning Code Remotely
Remove the hassle of obtaining and maintaining hardware
Computer Science Aligned Curriculum – ISTE & CSTA
Easy payment options: Stripe, Credit Card, Bank Transfer
Leading Teacher Analytics Dashboard
Easy sign on – SSO / SIS – Sign on via Google Classroom, Clever & more
Benefits
Enable Students to Learn Vital Life Skills
24/7 access to your personal fleet of robots
Access Robotify anywhere anytime with in-browser technology
Access on any device: desktop, computers, tablet and phone
Affordability without the expense of hardware