Empower educators with engaging content that drives student success
Capstone publishes and creates content for students in grades K-5. You may know Capstone through their print books, interactive eBooks, or from their curricular content hub PebbleGo. Capstone support teaching and learning with amazing content that engages students, inspires teachers, and connects families and communities to move literacy forward.
They work with you to curate a content-rich program specific to your goals and challenges that does not contradict, crowd, or replace your existing resources. Capstone's content creates harmony across digital and print, fiction and nonfiction, library and classroom, building on your efforts to create a consistently high-quality learning experience that educators and students, schools and their communities will love and trust.
What is PebbleGo?
PebbleGo is a curricular content hub specifically designed for K-2 students. Packed with informational articles, ready-made activities, and literacy supports for students of all abilities, it boosts engagement and fosters independent learning in core subject areas.
Key Features:
Engaging read-aloud audio
Simple navigation
Text appropriate for K-3 readers
Extended learning
What is PebbleGo Next?
PebbleGo Next provides a natural next step for 3rd-5th grade students with articles all aligned to state and national standards with a familiar, yet age-appropriate, experience and supports. With it, you'll provide 3rd-5th grade students with hundreds of curriculum-connected articles designed for their specific needs in:
How PebbleGo Next helps:
Engages upper elementary students with subject matter created for, and correlated to, state & national curriculum standards
Increases understanding, regardless of reading ability with scaffolding supports:
Authentic read-aloud audio
Academic vocabulary words with definitions
Images, video, and audio in each article
Enhances instruction with critical thinking questions to encourage reflection and connection
Fosters independence in learners with simple, consistent navigation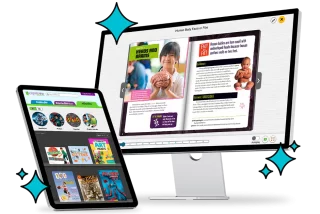 Interactive eBooks
Their eBooks are supported by read-aloud audio and offer unlimited access for each school site.
Capstone Interactive eBooks are designed for the unique needs of elementary schools.
Multi-user, simultaneous access—no hidden fees
Every eBook is supported by read-aloud audio recorded by professional voice-over artists
Over 5,500+ titles specific to K-5
Includes selection of titles specifically for Guided Reading support
Use from school or home on any internet-connected device!
What is Capstone Connect?
Capstone Connect is an educator-facing platform that brings all of your Capstone digital products together in a theme-based, searchable way.
Features:
1000s of nonfiction articles, your choice of 5000+ eBooks, plus instructional ideas
Cross-curricular content at a variety of reading levels provides essential supplemental support.
Natural voice read-aloud audio provides a research-based scaffold for all types of readers.
Easy-to-follow activity bundles to spark inspiration for lesson support.
How Capstone Connect Helps
Find educationally appropriate content that teachers trust, and students enjoy with an expansive collection of Capstone resources.
Match content to what teachers need to teach with a robust search tool that is simple to navigate by curriculum standard or by title.
Discover engaging, low-prep activities and projects designed to supplement curriculum in any situation.
Share any content using any Edtech tool or LMS with easy, one-click access in the classroom or at home, no additional usernames or passwords required!
What's included?
PebbleGo and PebbleGo Next
Capstone Interactive eBooks
Activity Bundles & Instructional Materials
Training and Implementation