Kutubee: A Bi-lingual Reading Platform
Think of Amazon and their Kindle books. Their platform and ease of buying and reading books have taken the reading industry by storm. Kutubee, which is an interactive reading platform for kids, functions pretty much the same way. But in this particular software, books are pre-loaded onto a digital reading platform that is easily accessible and packs a lot of features in order to keep the process simple for both teachers and children.
About Kutubee and Its Features
Kutubee provides a very unique reading experience for our children to read and engage with over 1500+ illustrated stories in English, Arabic and French that are carefully hand-picked by experts.
Some key features:
Increase knowledge – a variety of stories at different reading levels for all kinds of interests
Stimulate creative thinking where the students can analyze the content of the story by utilizing tools such as highlighting to see the bigger picture
Customize avatars of each student to personalize their learning space and journey
Able to listen to stories and you can follow along as the words being read are highlighted
Books are classified according to:
IB Primary Years Program (PYP)
Level Reading (example Level 1 and 2)
Subject
Age
A variety of sound effects are present in the reading of the book
Users are able to record and save their voice so that students can present their readings to teachers, and teachers can also model how a certain story is read
Offline reading is available for maximum exposure when students are on the go
A few questions are asked at the end of each story to keep the students engaged and test their comprehension in the process
Teachers have a comprehensive portal that allows them to track student and class progress
Teachers can also generate detailed Excel reports that highlight class statistics and metrics
Teachers can curate and build their own collections of frequently used books and set reading assignments for their students
A significant number of teacher resources have been compiled by Kutubee to aid teachers with the initial adoption of this application
Feature Highlight: Read to Me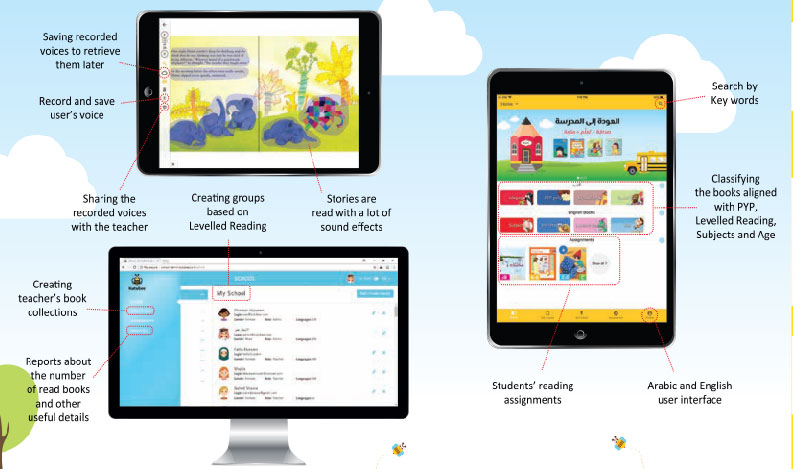 It enables the child to listen to the recorded stories anywhere and without an internet connection on all smart devices. In addition, it includes a lot of sound effects. Children can easily browse through the categorized books and enjoy reading at school and on their own time. In addition, children, parents, and teachers can enrich the content of the stories within Kutubee by recording their own readings or creating and adding a new dialog. It will facilitate the interaction between educators and parents by means of keeping you updated on and engaged in the reading development of the children.
In its essence, Kutubee is a very versatile tool that packages key features, both for educators and children, in order to deliver quality reading material and comprehension of stories.
It allows for an entire class or grade level to simultaneously start on a curated list of books set by the teacher, but it also gives individual students space to explore and progress on their reading at a pace that is comfortable for them to bear.
Teachers also have the ability to view class-wide and grade-wide statistics on how many books are being read and how many hours are being spent reading. They can also assign reading assignments and monitor individual students by requesting the student to record a reading session.
This combined feature set allows for gentle guidance and independence of learners, boosting their confidence in reading.