Interactive Whiteboards For Math Learners
Interactive whiteboards are very popular amongst schools in the UAE and GCC countries. No longer will you find teachers struggling to connect with students using outdated technology. Most schools will have one per grade at the very least. Interactive whiteboards can be a great digital tool for math learners. Similar to various other tools, the key to whiteboard effectiveness is how the educator uses this tool. They can help teachers and students interact more effectively, as well as provide visual aids to better illustrate concepts.
They are not limited in what they can show the students. Videos, PowerPoint presentations, and graphics can be used in addition to standard text-based lessons. The boards can be used to show equations, graphs, and diagrams that can help students understand difficult concepts quickly. Additionally, they allow teachers to create interactive activities that help engage students in the learning process. For example, they could use the board to create a game or quiz on a certain topic in order to reinforce the material.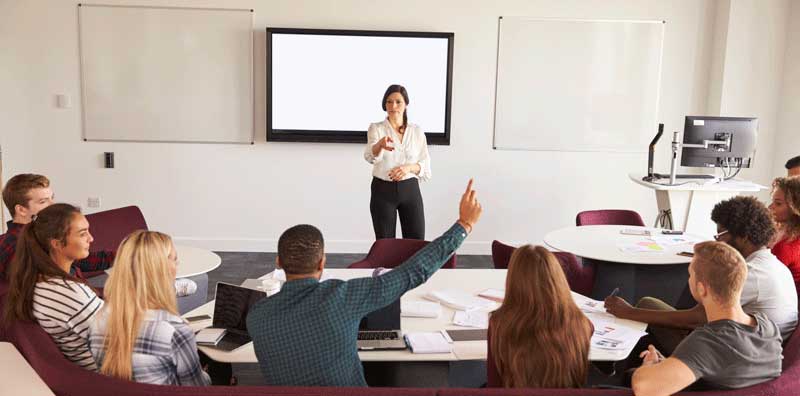 Studies have shown that whiteboards can help improve student engagement and performance in maths, as well as increase the confidence of both teachers and students. Additionally, whiteboards can help with formative assessment by allowing teachers to quickly assess student understanding of topics in real-time. The student can view the teacher's method of solving the equations or problems and also see how she pulls in additional data from the internet. Then this work can be saved and later emailed to the students for further learning or analysis.
Outside of the classroom, educators from not only Dubai but all over the Middle East, choose to use the online math's program called Mathletics. It is the world's leading program that uses engaging and gamified learning content. It provides complete support for school and home by offering simplified lesson planning. Teachers and parents alike benefit from its benchmarked assessments and curriculum-aligned activities appropriate for each grade. Using Mathletics data and targeted task assessments, you can positively challenge yourselves. Both these tools, Mathletics and the interactive whiteboard allow students to work together on given tasks such as labeling in geometry, solving algebraic equations, penning mathematical proofs, and interacting with virtual manipulatives.
Interactive whiteboards can be used to guide puzzled students in various ways. By allowing teachers to project images, videos, and animations onto the board, teachers can demonstrate concepts in a more appealing and simplistic manner.
Whiteboards also allow teachers to create interactive lessons with drag-and-drop activities, quizzes, and games that help students better understand the material. The smart technology of the interactive whiteboard can be used to highlight all the vital information as the class works through a lesson.
Additionally, whiteboards can be used to provide students with real-time feedback on their work by having them submit their answers directly on the board. Teachers can see the thought process of the student while he attempts to solve the problems given. This allows for an immediate assessment of student comprehension and allows for quick adjustments in instruction if needed.
Finally, interactive whiteboards provide an opportunity for collaboration between students and their peers which can further enhance their learning experience. It is especially beneficial in this virtual world where students grow up in a smart and connected world. Static chalkboards and paper worksheets can no longer hold the attention of children born into the digital era. With the click of a button, they can find a lesson they used previously. Internet connectivity to the whiteboard instantly puts a wealth of resources at the teacher's fingertips.