Memorizing Spellings, The Fun Way
Reading, writing, and communicating effortlessly are life-nurturing skills. Your child will develop these skills if they get into the habit of reading in their growing years. It has countless advantages, mainly that uplifts their grammar, pronunciation, vocabulary, and spelling, thereby making them super confident. This entire learning process of reading and mastering spelling goes hand in hand. When children get a grip on spellings, they will be motivated to read even more fluently and hence we say this is correlated. We have mentioned a few activities below that will help your children memorize spellings the fun way.
Break Down Words and Sound Them
This is a simple yet the most constructive exercise. Every time there is a new word, big or small, make sure you break it down for your child and while the word is broken into syllables, do sound them out, thus making it easier for them to remember the spelling and then they will be able to pronounce the entire word correctly in one go.
Use Pictures
Visual representations always work well with children. Where in certain cases it may be difficult to memorize text straight away but they will definitely remember the picture associated with the word. So, whenever your child gets confused with certain spellings, make sure you explain with some reference image.
Sing Rhymes
Melodies have lasting memories. Teach your children spellings through music. It may be rhymes or poems or action songs. Rhythms are effective, even if they forget the spelling, they will recall the letters and the word as per the tune
Emphasize Difficult Words
You may have time and again come across words that your children frequently struggle with. Once they have been identified, you must highlight such words and make your child write them down and make them understand the meaning of it. You can associate an example to remember with that word and then memorizing its spelling will become easier and the next time they read any text and come upon that word they will not stumble anymore.
Scramble Up Words
Jumbled-up words are great to teach spelling to children. Kids derive immense joy in solving the scrambled word and declaring the right spelling. Imagine jumbling up DUBAI to BAIDU, this way they will memorize spellings and learn words creatively. You can start with small words and proceed to bigger words and use common or proper nouns.
Conduct Word Search
Children and adults alike love solving word search puzzles. The letters grid is given and usually, there are about 10 to 15 words present in that grid to be found. The only difference is that the words are not scrambled like in the previous activity. The alphabets of the words are present in the correct order but words are either placed vertically, horizontally, or diagonally in the grid. The list of the words to be searched in the grid is given and every puzzle is based on a genre. So, in this way children are introduced to numerous words and are memorizing their spellings with a lot of thrill.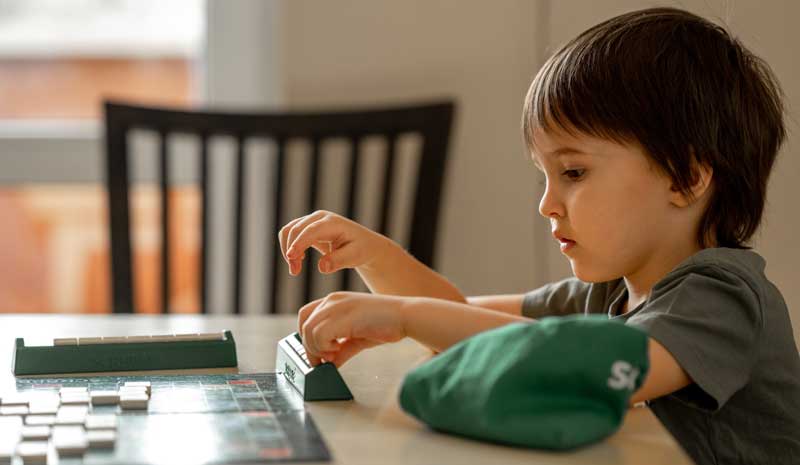 Play Scrabble
This is an all-time favorite family game not just in the Middle East but loved across generations around the world. Play scrabble with children while they are young. This board game is so exciting, that they would want to play a game anytime. The dictionary often comes to the rescue in this game when the players debate the spelling of certain words or even when they funnily argue whether a particular word exists in the dictionary or not. Calculation of the word formed to attain points is the high point of this game. Your child is learning fabulous words, knowing their spellings, and polishing Math too. It's one game with tremendous benefits.
Quiz with Abbreviations
This is another fun task to undertake with your children. There are plenty of abbreviations to learn. Basically, your kids are learning the short form of a word or a phrase and simultaneously memorizing its spellings.
E.g. For Country – United Arab Emirates is abbreviated to UAE.
E.g. For Organisation – Gulf Co-operation Council is abbreviated to GCC
Reading Eggs makes the learning-to-read journey fun, interactive, and highly rewarding for ages 2-13, based on solid scientific research. They provide an educationally sound and highly enjoyable program that is effective and easy to integrate into your daily routine. Fast Phonics is an online synthetic program that helps children become strong readers. It includes 20 fun filled levels where children learn key phonics skills including letter sound recognition, blending, and spelling. Each level is a mountain peak covering one set of letters with several exciting activities.